Content Area
ALEKS is a personalized digital learning platform which boosts engagement, increases student performance with individualized assessment and learning.
It helps to pinpoint exactly what student know, what they don't know, and what they're ready to learn next – so you can ensure students are prepared for class, and you can make better use of in-class time.

Optimized Learning With ALEKS
ALEKS gives each student an optimized path to success with an ongoing cycle of learning and assessment, providing real-time feedback and celebrating small wins along the way. With its foundation in research and analytics, ALEKS is designed to encourage better preparation, develop student motivation and improve knowledge retention.
ALEKS Prepares Students
Your instruction is more effective when students come to the class well prepared. ALEKS ensures the prerequisite skills for better understanding of any topic presented to them. ALEKS also provides personalized practice and guides students to what they need to learn next.

ALEKS improves retention
ALEKS helps improve student knowledge and in-class retention through periodic knowledge checks and personalized learning paths. This cycle of learning and assessment ensures that students remember topics and they are better prepared for exams.
Whether it is a traditional classroom, a lab with computers or an online prep course, ALEKS can adapt to meet your unique needs. ALEKS enables you to structure your course regardless of your instruction style or course format.
Courses Offered:
Higher Education Mathematics

Higher Education Business
Higher Education Science

Higher Education Behavioral Science
Insights and Reports
ALEKS Provides Reports that help create more meaningful interactions whenever your students need it.
ALEKS provides Insights, which help understand how your students learn and how they are progressing.
ALEKS Pie
ALEKS Pie Report (Class Level) shows the average learning rates and a detailed view of what students have mastered, have not mastered, and are ready to learn. The pie chart identifies the average progress toward completion of the course.
Progress Bar
Progress Bar Report shows the overall class progress. Instructors can also view the progress on assessments and in Learning Mode at various time intervals.
Time & Topic
The Time and Topic Report allows instructors to view the amount of time spent by each student in ALEKS on a daily basis and provides a detailed log of topics attempted and mastered.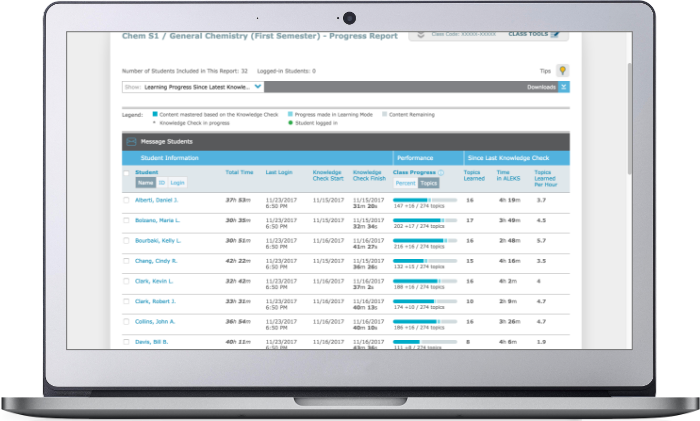 Knowledge Per Slice
Knowledge Per Slice Report provides a class view of the mastery of topics in each ALEKS pie slice. It allows instructors to view a summary of how much a student mastered in each ALEKS pie slice.
Assignments
View results on assignments, including homework, quizzes, tests, and requested assessments.
ALEKS HE Business Success Stories
"Students using ALEKS performed significantly better than those who had not on the exams that tested the underlying financial accounting material. Furthermore … I spent far less office-hour time tutoring students on financial accounting material. ALEKS provides a great way for educators teaching the introduction to accounting course to address the functional competencies of financial accounting in both an efficient and effective manner."
– Ryan J. Baxter and Jay C. Thibodeau, Bentley University, MA
Issues in Accounting Education: November 2011, Vol. 26, No. 4
ALEKS HE Science Success Stories
"Online homework had a significant and positive impact on final exam performance for all students, and for underrepresented groups in particular. ALEKS had a significantly larger positive impact than Mastering Chemistry."
– Dr. Jack Eichler, Lecturer, University of California Riverside, CA
ALEKS HE Behavioral Science Success Stories
"ALEKS completely removed the achievement gap between different groups of students in my psych-stats course! ALEKS provides a potential solution to a critical national problem."
– Xiangen Hu, The University of Memphis, TN